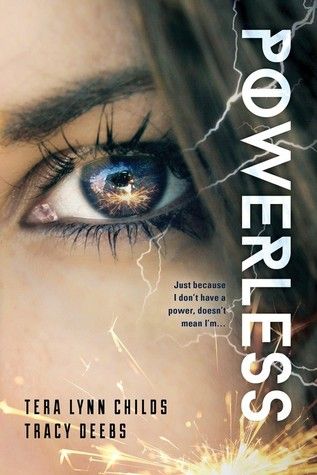 Title
: Powerless (The Hero Agenda #1)
Author
: Tera Lynn Childs and Tracy Deebs
Release Date: June 2nd, 2015
Genre
: Superheroes
Age Group
: YA
Source
: NetGalley
"Kenna is tired of being "normal". The only thing special about her is that she isn't special at all. Which is frustrating in a world of absolutes. Villains, like the one who killed her father, are bad. Heroes, like her mother and best friend, are good. And Kenna, unlike everyone else around her, is completely ordinary— which she hates.

She's secretly working on an experiment that will land her a place among the Heroes, but when a Villain saves her life during a break-in at her lab, Kenna discovers there's a whole lot of gray area when it comes to good and evil and who she can trust.. After all…not all strength comes from superpowers."
RELATED: Eye Candy (City Chicks #1) | Straight Stalk (City Chicks #2) | Trying Texas (City Chicks #3) | When Magic Sleeps (Darkly Fae #1) | When Magic Dares (Darkly Fae #2) | Fins series | Relentless (Powerless #2) | Relentless Spotlight & Superhero Quiz
My Review
To be honest here, even if I had not already read the blurb and fallen in love with the superhero idea, I would have requested to read this book from NetGalley anyways. Even without knowing a single thing about it. I'm a big fan of Tera Lynn Childs already. (I loved her greek mythology based series, rather enjoyed her mermaid one, and absolutely fell in love with her Darkly Fae series. And that is just her YA stuff.) While I had never read anything by Tracy Deebs (Tracy Wolff) before, with Tera Lynn Childs as a partner in crime, the book couldn't go wrong.
The book started with Kenna taking a break from her lab work (the super secret, super boring note transcribing kind) to get a snack from the vending machine and she loses the battle. To the machine. Right away we were kindred the-vending-machine-refused-to-give-me-my-snack-and-I-have-no-more-money buddies.
So when the super cute and mysterious guy came along to the chocolate bar rescue, I was in love.
With him.
With this book.
I knew right away we were going to go to great places together.
From there we quickly jump into the action. Turned out, our mysterious gentleman was actually a villain breaking into the super secret heroes' laboratory. Draven and his accomplices were just about the greatest thing to ever walk into a book. Hot, powerful, snarky....swoon. The three of them had this connection that you needed to understand. Just what were they searching for? And why were they willing to risk their lives to get it? They were the "bad guys," but everything the did or said just screamed at you to ignore the labels.
"Who are these guys? They seem more helpless than heartless, more Three Stooges than criminal masterminds." (Kenna 8%)
I died.
Seriously I was laughing so hard throughout this book that I made myself cry several times. It was not just the Draven-Dante-Nitro back and forth banter than had me laughing. This book was full of humor, snark, and romantic tension arguments that nearly burned the book down.
But the book was more than just humor, it had it's serious messages attached.
Kenna was a wonderful girl. She was brave and smart and resourceful. Who else would challenge three obvious villains armed with nothing her wit and a fire extinguisher? I'd be a tinsy bit afraid of the angry guy blowing holes through walls with his firepower. Especially after we learned his companion had a mowhawk look going on because his hair was a casualty of Nitro's firepower. (The powers of supers were connected closely to their emotions. If they got angry or upset, they were at risk to losing control.)
That was the thing about Kenna, she may not have been the person she wanted to be, but she knew who she was and what she needed to do. Even when it meant she had to put herself in harms way for the greater good.
In a world of Supers, Kenna's only fault, in her mind, was how ordinary she was. The heroes in her life didn't see her unless they needed her, the villains didn't much care that she tried to stop them, and her mother was too busy working on the next big superhero weapon/resource to spend much time with her. Her mother did love her, you could see it in the way she tried to smother her with protection, but sometimes a girl just needs to sit down and spend relaxing down time with her mother.
"That's the problem with being an ordinary in the world of heroes -it's impossible not to feel less all the time." (Kenna 15%)
My heart hurt for her throughout most of this book. The poor girl wanted more than anything to have a power so that the people in her life would not look down upon her for being less. And even if we are not talking super power wise, I think every one feel like that at least once in their lives. I really loved watching her realize that it is not that sort of power that she needed to develop to succeed, and I loved watching the rest of her motley crew understand that just because someone was ordinary, did not mean they weren't extraordinary all the same.
Draven was a lot of fun. He was very much the bad boy figure in the book. (He was a villain after all.) There were times when his people were threatened that you could see how easy it would be for him to cross that line. Any one of us could take things just a little too far and become evil. Though Draven was a villain, he wasn't evil. Nor did I fear he was going to hurt Kenna, like I see with so many bad boys as love interests. He just met the girl and two minutes later he was acting as he shield from his own buddies. How can you not fall for that?
"Whoever heard of villains with a hero complex?" (88%)
The romance in the novel followed the dislike-at-first path. This is quickly becoming my favorite kind. I love it when the insults/snark starts to fly because it is real. They did not lie nor sugarcoat things, and it was so much fun to read. Which made it all the more wonderful and real when they started to trust each other. I ship it.
Words To Live By
"Supers might think I'm weak, but I'm not. Sometimes, being underestimated can be a real advantage." (5%)"
"I've never been good with unanswered questions though. I have no choice. I have to follow the goose." (24%)
"The others nod, and for the first time we really feel like a team. Not like a bunch of strangers with a common goal, but a real team. One that trusts and respects each other. It's a powerful feeling, which makes me think that maybe, just maybe, we have a chance." (75%) "
Overall
If you like superheroes and villains then you have to try this book. Powerless was a quick cute read that will leave you demanding the next book.