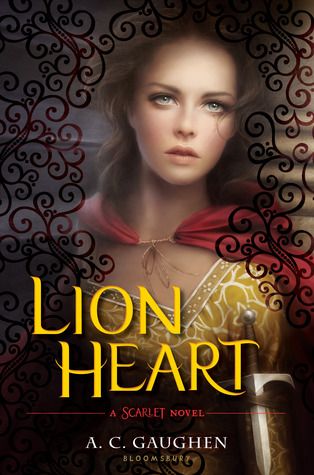 Title
: Lion Heart (Scarlet #3)
Author
: A.C. Gaughen
Release Date
: May 19th, 2015
Genre
: Fantasy - Retelling - Historical
Age
Group
: YA
Source
: NetGalley
Rating
: 5 Stars
"Scarlet has captured the hearts of readers as well as the heart of Robin Hood, and after ceaseless obstacles and countless threats, readers will finally find out the fate of the Lady Thief.

Imprisoned by Prince John for months, Scarlet finds herself a long way from Nottinghamshire. After a daring escape from the Prince's clutches, she learns that King Richard's life is in jeopardy, and Eleanor of Aquitaine demands a service Scarlet can't refuse: spy for her and help bring Richard home safe. But fate—and her heart—won't allow her to stay away from Nottinghamshire for long, and together, Scarlet and Rob must stop Prince John from going through with his dark plans for England. They can not rest until he's stopped, but will their love be enough to save them once and for all?"
RELATED: Scarlet (Scarlet #1) | Lady Thief (Scarlet #2)
My Review
*Received a copy for an honest review.*
Scarlet was one of those books that I delayed reading for some unknown reason and when I finally gave it a chance, I devoured it. I had Lady Thief in my hands before I turned the last page of Scarlet.
After my flythrough reading of books one and two, waiting for Lion Heart was near impossible. But somehow I managed it and my patience was rewarded with an approval via NetGalley. Cue fangirl screaming.
As I started reading, my first thought was "I have a feeling my review will go ME + BOOK = FEELS OVERLOAD."
The most accurate prediction I've ever made right there folks.
To say I loved Lion Heart feels like an understatement. I love Robin Hood tales. I loved the Robin Hood movie with Kevin Costner. But I connected with Lion Heart.
Lion Heart picked up a little after Lady Thief ended. Scarlet had been a prisoner of Prince John for a bit. Separated from those she cared for, she was trying to hold out hope of being reunited. After an escape, she found herself unable to return home. With King Richard being held for ransom, Prince John was making his move to claim the kingdom. If he succeeded, then all of their struggles have been for naught, and the fate of those she cared for would be dire indeed.
Scarlet has been through a lot these three books, much more than I think many of us would have the will to survive through. She has every reason to fade into the shadows and leave the world to it's fate. And I couldn't hold it against her if she did just that. But what makes Scarlet such a powerful character was her drive. She wasn't going to sit back and sail away from her troubles. She was going to stand up for the English people, even if she was the only one who would dare to.
And if that didn't make Scarlet one of the most powerfully written female characters in YA literature today, then nothing would.
I love Rob. I LOVE Rob. I LOVE ROB.
He was one of the best male leads I have ever seen. Was he perfect as a person? No. Did he have some hang-ups about spoilerish plot things that could forever separate them as a couple? Yes. Was I ever worried that he didn't deserve his happy ever after? No.
Robin was a lot like how you picture Robin Hood. A trickster displeased with the ruling class, with sticky fingers working to amass money for the common man. A loyal friend to those in his group. But he was also just a man. The woman he cared for was in constant danger, his people on the verge of losing everything, and the future he always imagined, gone just like that.
Yet he worked so hard to protect his people and keep them living. Scarlet was his heart, yet he didn't lock her up safe and snug to keep her from following her own. He was right there at her side trusting her. If that doesn't make a man swoonable, nothing will.
One of the things I love the most about this series was that it was real. Life isn't easy, and nothing was sugar coated. People live, and people die. Rob and Scarlet have been through so much, they have their scars both physical and emotional. But watching how their experiences changed them, from their words and actions, A.C. Gaughen made me feel those changes. Too often in YA literature there are no lasting consequences for the heroes, sure they grow, but sometimes authors fail to make us believe it. But A.C. Gaughen does, she made Robin and Scarlet real.
Each page reached out and ripped an emotion from my chest. One minute I'd be laughing at the snarky banter between David and Allan, and the next I'd be the verge of tears. There were some surprised and twists along the way. A couple things I saw coming early on. But I wouldn't have it any other way.
Lion Heart is easily one of my top five picks of the year, and I have the upmost confidence that by time the year is up, it'll still be on that list.
Words To Live By
"The strange thing were how much I missed the light. I'd gotten a taste of it, in Rob's kiss and touch, in the fickle, brutal shine of hope, and I wanted it back. I didn't want to be a thing of darkness anymore."
"They are neglecting their duty. But I will not forget what duty is. Even if I must do the work of others."
"I wouldn't fix a broken thing only to see it shatter before my eyes a moment later."
"I'll never leave you. As long as you love me, I'll be here, hidden somewhere in your heart."
"Sometimes, it's harder to be bright when you feel the darkness inside you. Sometimes the very hardest thing is to let the pain go."
Overall
If you haven't read
Scarlet
yet, then (one) I don't know you, and (two) this must be remedied right away.
A.C. Gaughen has taken a familiar story of love and honor and taken it to new ground, creating a powerful story about two humans caught up in the struggles of living.