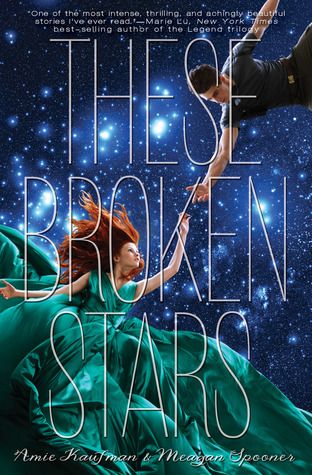 Title
: These Broken Stars (Starbound #1)
Author
: Amie Kaufman and Meagan Spooner
Release Date
: December 10th, 2013
Genre
: Science Fiction
Age Group
: YA
Source
: Purchased
Rating
: 5 stars
"Luxury spaceliner Icarus suddenly plummets from hyperspace into the nearest planet. Lilac LaRoux and Tarver Merendsen survive -- alone. Lilac is the daughter of the richest man in the universe. Tarver comes from nothing, a cynical war hero. Both journey across the eerie deserted terrain for help. Everything changes when they uncover the truth. "
RELATED : This Shattered World (These Broken Stars #2) | Their Fractured Light (These Broken Stars #3) | [Amie Kaufman: Illuminae (Illuminae Files #1)]
My Review
What I Loved:
Tarver - I love a boy wrapped in snark and muscles. Tarver was a young, dashing war hero. He had his metals and was travelling in style with all the rich and pompous clients. But he kept his wits about him, and would have been much happier without all the fame. As soon as disaster struck, he immediately jumped into action, letting his training take over. Lilac treated him roughly for a while, and he could easily let her die, but because the type of man he was at heart, he never abandoned her.
Those Mini Scenes Form The Present - Mainly because I loved Tarver's snark. I would have favorite them all if I could have.




""Your key concerns at that stage?"
"Well, Miss LaRoux had a party she didn't want to miss, and I—"
"Major, you don't seem to understand the seriousness of your situation."
"Sure I do. What the hell do you think our key concerns were?"
Lilac's Growth - Looking back it is easy to see her character change. She started out playing a role, a pretty rich girl with all the right connections. By the end she was herself, strong, capable woman who was smart enough to accomplish what she set her heart on. There obvious signs, such as the degradation of her formal speech or learning to start a fire, things that never would have happened otherwise. But there was so much more. She changed as she struggled to survive, and I for one feel as if I changed along side her.
The Swoon - The two of them had such great chemistry that I couldn't help but ship them. They didn't start out as friend, barely even reluctant allies, but they bickered you could feel the attraction between the two of them. As they struggled to find a way to survive, a way off the planet and back home, they shredded their layers and broke down barriers.
The Writing - Way back, before this book came out, I started following Amie Kaufman and Meagan Spooner on twitter. I remember one of them saying they each took a character and wrote that point for view for the book, alternating as they went for the first draft. Then they blended the writing as they set about editing. I have to say they did an amazing job. If I hadn't known that, I would never have imagined the book starting out like that, it flowed that well. For the vast majority of this book there are only two characters. Yet, they managed to captivate us with a crash into the familiar but unknown.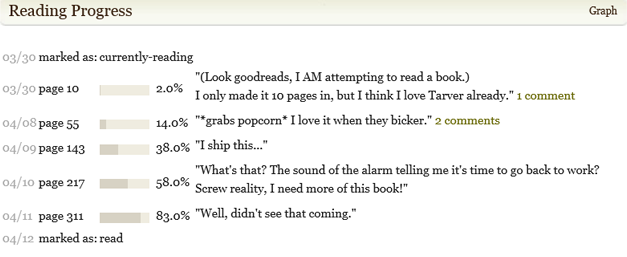 What I didn't like:
That The Hype Scared Me Away For A Few Years - I bought this book way back in December 2013. *Waits for you to check calendar.* Yup it's April 23rd, 2015. Why did I wait so long? Because all of a sudden this book just took off and it was everywhere I turned. People raved about it, fawned of Tarver, dew little hearts around Lilac and Tarver's names. And I panicked. There was no way this book was going to be as good as all that. No way.
Then book two came out, and I wanted the pretty preorder package from Barnes and Noble. The only way I could justify that was if I finally read book one. (I told you I was a bookaholic and this just proves it, buying book two without reading book one first...)
But I was wrong! And so very glad I didn't let this book sit on my shelves for another year and a half without reading it.
Words To Live By
"I'm not doing much at all. I might as well be a rag doll. Comes complete with matching shoes. Spine sold separately."
"How do you live again, knowing what waits for you in the end?"
"But she's here, she's mine. I'm hers."
Overall
If you like survival stories, if you like science fiction stories, if you like romance stories, or if you just plain like a great story with a fascinating, well written cast:
READ THIS BOOK.