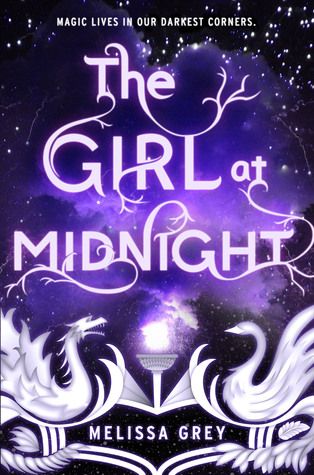 Title:
The Girl at Midnight (The Girl at Midnight #1)
Author:
Melissa Grey
Release Date:
April 28th, 2015
Genre
: paranormal
Age Group
: YA
Source
: NetGalley
Rating
: 4 stars
"Beneath the streets of New York City live the Avicen, an ancient race of people with feathers for hair and magic running through their veins. Age-old enchantments keep them hidden from humans. All but one. Echo is a runaway pickpocket who survives by selling stolen treasures on the black market, and the Avicen are the only family she's ever known.

Echo is clever and daring, and at times she can be brash, but above all else she's fiercely loyal. So when a centuries-old war crests on the borders of her home, she decides it's time to act.

Legend has it that there is a way to end the conflict once and for all: find the Firebird, a mythical entity believed to possess power the likes of which the world has never seen. It will be no easy task, but if life as a thief has taught Echo anything, it's how to hunt down what she wants . . . and how to take it.

But some jobs aren't as straightforward as they seem. And this one might just set the world on fire."
My Review
*Received a copy for an honest review.*
Feathers for hair, magic running through their veins, and is that a dragon on the cover? The Girl at Midnight quickly landed itself on my TBR pile. I was super lucky to receive a copy via NetGalley for an honest review.
Echo has had a hard childhood, to cope she's hidden herself away from people and resorted to stealing to survive. But when she encountered the Ava, everything changed for her. Now she had a home, even if only a few of the Avicen wanted her there. When Echo was dragged into the hunt for the Firebird, she decided she needed to retrieve it for the people she's always wanted to belong with.
I really loved Echo. The girl made her home in the library, so she was well read. She kept spouting of these complex words that was an aspect of her characterization that I really loved. 'Tsundoku. It was the Japanese word for letting books pile up without reading them all.' She was fiercely loyal to those she cared about, and was smart and resourceful in the ways she sought to protect them. Echo was vulnerable in a way I think most of the human race is, she wanted to be accepted by the people she lived with, the Avicen. Most did not want her, yet she admirable kept herself moving forward, and all you wanted was for her to get that moment where she truly belonged to them.
The Girl at Midnight had several other point of view characters including Caius, Dorian, Ivy, and Jasper. With the multiple viewpoints, we got to see both sides of the centuries old war and a human's perspective of this whole world right under our noses. I liked the world we were introduced to. It was the right blend of modern and paranormal. The more we learned about the two groups and this Firebird, the more I wanted to know. Every time they found another piece of the puzzle, I was right there along with them searching for the next clue.
I'm a bit torn on the romance. On one hand, I did not like it at all, and on the other I loved it. There is a triangle in this book, a fact I wasn't too pleased to discover, even if I did see it coming. On one hand we have the boy she's grown up with and on the other, we have the new exciting gentleman who comes into her life. Most of what I'd love to say about the romance is too spoilerish to mention, but I had a hard time with it at times. I didn't like the first guy, in fact, I preferred the second choice for most of the book and figured he would end up as a romantic lead before the end of the book. But by the last page, so much happened, that I was left trying to pick up the pieces and figure out how I felt about them all.
Words To Live By
"I like to be around all these books. They're very good at making you forget your troubles. It's like having a million friends, wrapped in paper and scrawled in ink."
"The young always think they're invincible, right until the moment they learn otherwise. Usually, the hard way."
"To each his own mask."
Overall'
If you like urban fantasy, then give this one a try.
The Girl at Midnight
was a fast paced treasure hunt full of magic and danger.