A weekly book meme hosted by
The Broke and the Bookish
.
This week's theme is the Top Ten All Time Favorite Authors:
01. Sarah J. Maas

This series has quickly become one of my favorite series ever. I'm a fan for life.
02. Marissa Meyer

I was won over early on during Cinder and several book later, I still love this world and the writing. I cannot wait for A Court of Roses and Thorns to come out.
03. Brandon Sanderson

New fan here. I've only read four of his books (two on the left of these pictured) but I'm working my way through all his books.
04. Tera Lynn Childs
With the exception of a few novellas that I have to buy still, I have read everything she has written to date.
05. V.E. Schwab/Victoria Schwab
Okay, so I've only read A Darker Shade of Magic but even if the others are nothing like ADSOM, I know I am going to like them.
06. Sherrilyn Kenyon

Except for a few of her B.A.D. novels, I have read everything she has written. I especially love her Dark Hunter and League series.
07. Katie MacAlister
I really love dragons, so when I found her dragon books, I was hooked. Years later I've read nearly everything she has published.
08. Kerrelyn Sparks
One of my favorite paranormal romance authors ever. I also love her historical romances. With the Love At Stake series finished, I'm curious as to what she has planned next.
09. Grace Burrowes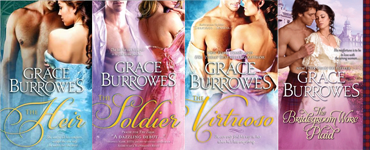 I came across Heir randomly and loved it. I've read most of her books already. All I need now is to get her Lonely Lords series and I'll be caught up.
10. Julia Quinn
I am about half way through all her works, but I haven't been disappointed with one of them yet.
What is your Top Ten this week?