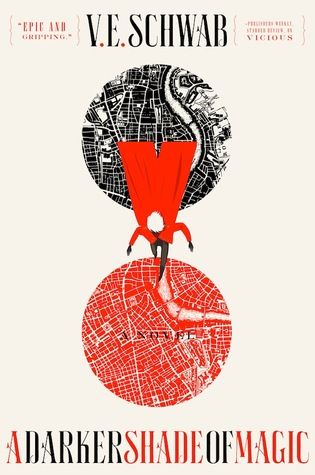 Title
: A Darker Shade of Magic (A Darker Shade of Magic #1)
Author
: V.E. Schwab
Release Date
: February 24th, 2015
Genre
: Fantasy
Age Group
: YA or older
Source
: Purchased
Rating
: 5 Stars
"Kell is one of the last Travelers—rare magicians who choose a parallel universe to visit.

Grey London is dirty, boring, lacks magic, ruled by mad King George. Red London is where life and magic are revered, and the Maresh Dynasty presides over a flourishing empire. White London is ruled by whoever has murdered their way to the throne. People fight to control magic, and the magic fights back, draining the city to its very bones. Once there was Black London - but no one speaks of that now.

Officially, Kell is the Red Traveler, personal ambassador and adopted Prince of Red London, carrying the monthly correspondences between royals of each London. Unofficially, Kell smuggles for those willing to pay for even a glimpse of a world they'll never see. This dangerous hobby sets him up for accidental treason. Fleeing into Grey London, Kell runs afoul of Delilah Bard, a cut-purse with lofty aspirations. She robs him, saves him from a dangerous enemy, then forces him to another world for her 'proper adventure'.
But perilous magic is afoot, and treachery lurks at every turn. To save all of the worlds, Kell and Lila will first need to stay alive — trickier than they hoped."
RELATED: Vicious (Vicious #1)
My Review
Now, I've never read a book by Victoria Schwab/V.E. Schwab before. But I've talked to her on twitter some and I have heard near constant praise for A Darker Shade of Magic for quite a while. (And that's not counting all the praise I've heard over Vicious.)
I knew right away this was going to be a "buy" book. On a hunch, I took a side trip to my local Barnes and Noble where I found both Vicious and an early released A Darker Shade of Magic. Queue squealing in the aisles.
Once I got it home, I changed my TBR reading plan right away.
All the early praise of A Darker Shade of Magic didn't lie one bit.
ADSOM was exactly what was promised. A fun, fast paced adventure filled with thieves, aspiring pirates, magic, and sadistic rulers. I loved every page of it. This was one of those books that I almost went back to work late because I was so absorbed into the world that I missed my alarm going off. Two days in a row.
Kell has to be one of my favorite characters I have met this year. He was absolutely perfect. A mix of dashing, reluctant hero combined with a sort of cocky, smartass. He also had a vein of tortured hero because of his uncertain childhood, and from living so close to the royal family. Perfect and swoonworthy I tell you.
If Kell was one of my favorites, then Lila was my favorite. I loved her. She was fun, and free-spirited. She had this balance of common sense and a deep need for adventure. (See the first two quotations below.)
Lila was the type of girl I wish I could be
. She was a thief by trade, and a pirate at heart. But she was more than just her occupation, and more than just a survivor. Her life has been a tough one, and she's done some shadowy things to survive, but watching her as she learns about magic and other Londons, you can't help but see the girl who only wants to see, to learn, to live.
The story itself was nonstop, and had more surprises than a haunted house. When Kell first started talking about the different Londons, I wasn't so sure. Why are there so many different worlds? How are they all connected? What the heck happened to Black London? There world was so complex and I was unsure how the author would handle everything.
But as the story fleshes out, our villains taint one thing after another, pushing our heroes further and further from safety. Our heroes aren't strictly good, and are villains are pretty complex proving that VE Schwab can write wonderfully complex characters and I will be a fan for life. The book is fully of shipping possibilities to make any fangirl happy.
Words To Live By
"I'd rather die on an adventure than live standing still."
"Looking for trouble, he'd say. You're gonna look til you find it.
Trouble is the looker, she'd answer. It keeps looking till it finds you. Might as well find it first.
Why do you want to die?
I don't, she'd say. I just want to live."
"But the things about people, Kell had discovered, is that they didn't really want to know. They thought they did, but knowing only made them miserable."
"You know so little of war. Battles may be fought from the outside in, but wars are won from the inside out."
Overall
If you like fantasy type books, then you have no excuse why you cannot read this book.