There have been quite a few books that I've liked, or disliked, lately that haven't inspired me to write a lengthy review. But I wanted to say something about the books.
So here is the latest batch of mini reviews:
*
Scarlet (Scarlet #1)
by A.C. Gaughen - 5/5 stars
*
Lady Thief (Scarlet #2)
by A.C. Gaughen - 5/5 stars
---
RELATED: Lion Heart (Scarlet #3)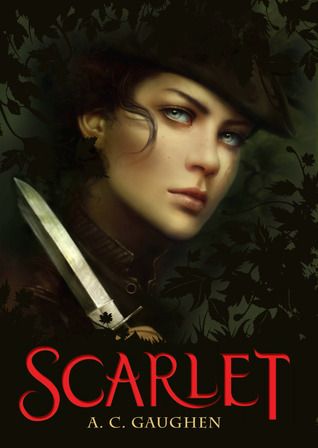 Title
: Scarlet (Scarlet #1)
Author
: A.C. Gaughen
Release Date
: February 14, 2013
Genre
: Retelling - Historical - Fantasy
Age Group
: YA
Source
: Library
Rating
: 5 Stars
Read it.
Seriously, don't be like me and wait for some convoluted reason that doesn't even make sense anymore.
Scarlet
was a wonderful, well written novel. This was one of those novels that I picked up from the library and well before the last page I knew I needed to go out an buy my own copy. Rereading this series is in my future.
I love Robin Hood tales. Really, I think I'm a sucker for anything that somehow connects to archery.
Scarlet takes the classic Robin Hood tale and twists it.
There are still elements of the classic throughout the book, but at it's heart, its a story never before told.
Scarlet was posing as a boy amongst Robin's band of thieves when we first meet her. But it wasn't like she was weak and needed protection and coddling, Scarlet was good at what she did. Here was a girl who had her inner scars and fears, yet she did not let the boys take care of her, nor did she quit fighting and die. Though she was far from perfect, you had to admire her strength. She was such a fun character. From the way she acted to the way she spoke, nothing about her was your typical heroine in a medieval period story.
I knew I was going to love Rob, he was Robin Hood after all. How could you have a Robin Hood retelling and not love Robin? Impossible. He was a great leader, and you could feel his compassion and concern for his little group. You understood his connection to his people and his need to provide for them. Plus, he was a swoonworthy hero.
But that's not why I loved him so much.
He obviously cared for Scarlet, even if she could not see it at first. Yet, he didn't smother her. He accepted the way she felt about her life, and let her make her own decisions and follow them through. After reading too many books where the love interest was controlling and ignore the heroine's wishes and desires, Rob was a refreshing treat.
---
Title
: Lady Thief (Scarlet #2)
Author
: A.C. Gaughen
Release Date
: February 11th, 2014
Genre
: Retelling - Historical - Fantasy
Age
Group
: YA
Source
: Library
Rating
: 5 stars
My initial GoodReads review consisted of the following:
"This book ate my soul."
And that pretty much still works as my whole review.
Lady Thief
picks up a bit after the events of
Scarlet
. AND OH, DOES THIS BOOK HIT YOU IN THE FEELS. Scarlet and Robin sitting in a tree, NOT K.I.S.S.I.N.G.
because
of the dreaded Gisbourne's existence. It's been a while since I've really shipped a couple this hard. They are just the cutest pairing ever.
I was so afraid this book might suffer from "second book syndrome" but it doesn't.
Lady Thief
was just as good as
Scarlet
was. The stakes get higher, the romance more tangible, and we learn a few secrets the characters have been trying to keep quite.
Book two contained more classic scenes/information that other versions of this story have already imparted to the audience. But at no point in time did I feel like I was reading a retelling of something that's been done a hundred times. Even though I know the tale of Robin Hood, I felt like I had no idea where
Lady Thief
was going to go next.
The author really kept things real for our characters. With men who abused there power in high positions, this world was deadly. No one got coddled, and no punches were pulled. In fact,
there was a big target right in your feels that A.C. Gaughen punched repeatedly.
Scarlet, Rob, and Co. had some serious repercussions to the events in book one to deal with and there was no easy, magical fix in sight.
This was an all-nighter, call out sick from work type of book. (Guilty of the first bit, I'm not daring enough to attempt the second. They'd hunt me down.) So much happened in this book, we met new people and changed our minds over how evil Gisbourne truly was several times. We watched as a few words spoken in the heat of the moment changed the course of everything.
From the moment you finish this book, you will be craving Lion Heart.