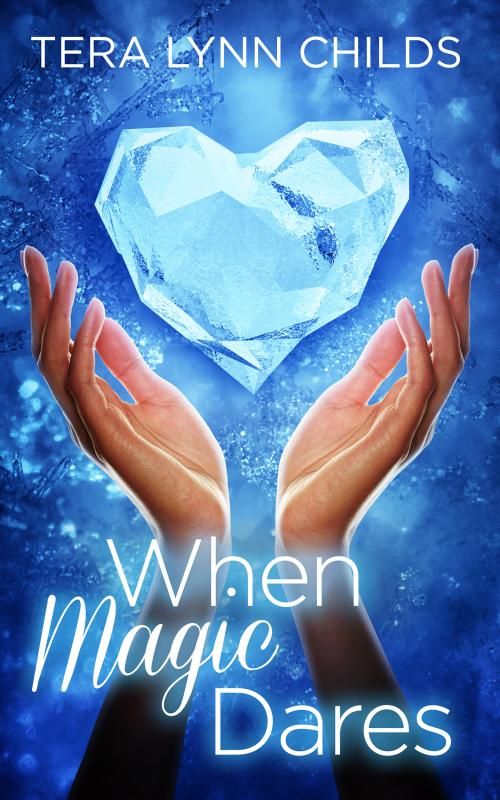 Title
: When Magic Dares (Darkly Fae #2)
Author
: Tera Lynn Childs
Release Date
: March 2nd, 2015
Genre
: Faeries
Age Group
: YA
Source
: Author
Rating
: 5 stars
"When magic dares, anything is possible.

Young, beautiful, and royal, Princess Arianne of the Deachair should be the most envied fae in all the realms. But tragedy stole a carefree life from her. Thrust into the role of ruler as a girl, she has spent the last decade struggling to keep her people safe at any cost. With her magic weakened by a devastating curse, strength, will and intelligence are her only powers left to wield. When the full force of the Moraine army marches on her palace, ready for war, she must act quickly to save her clan from total destruction.

As captain of the royal guard, Tearloch Donne considers the protection of the Moraine and their royal family his foremost duty. A duty he failed when a traitor within the palace ranks nearly assassinated the high prince. Now he will do whatever it takes to hunt the villain down and make him pay for his betrayal. But when he volunteers the enemy princess on a quest for answers, he finds himself weighing his duty to his clan against his growing feelings for her and a secret memory they share.

With the fate of two dying clans depending on their success, a proud princess with dangerous secrets and a loyal warrior bent on revenge must embark on a journey that could save them all… or destroy them both. "
RELATED: Eye Candy (City Chicks #1) | Straight Stalk (City Chicks #2) | Trying Texas (City Chicks #3) | When Magic Sleeps (Darkly Fae #1) | Fins series | Powerless (Powerless #1) | Relentless (Powerless #2) | Relentless Spotlight & Superhero Quiz
*I was lucky enough to be able to beta read this for Tera Lynn Childs.*
I must admit when I first started reading When Magic Dares I wasn't expecting to jump to two new POV characters. When the first novella ended, all of Winnie and Cathair's problems weren't solved, but they were in a good place plotwise. Looking back, especially by the end of When Magic Dares, the change up made a lot of sense and I was glad for it.
From the very first page I knew I was going to love this story. These events immediately follow the conclusion of
When Magic Sleeps
and we were brought right into the action. Something big was about to happen. We have a traitor on the loose, and two fae kingdoms on the verge of war. Even though I was thrown a smidgeon not having expected the new POVs, I was immediately captivated by Arianne's strength and pulled right into the story.
With her father missing and her people cursed, Arianne was determined to protect and guide her people. She was not completely convinced she was the right person for her job, but she cared enough for her people and was more than willing to try to be a great ruler for them. How many other eight year olds possessed the necessary strength and drive to rule their kingdoms? I knew right away she was/would be a great queen.
I liked Tearloch in the first story. Not only was he a high ranking member of the Royal Guard, he was Prince Cathair's friend. We got to see a bit of him, but I just knew there was going to be so much more to him than what the others saw. So when chapter two started off in his head, a pause to initiate a fangirl dance was in order. I wasn't disappointed at all. Tearloch was fascinating. It wasn't a stretch to believe he was capable of protecting anyone, even before he picked up a weapon. Yet he wasn't a battle and glory headstrong youth either. He was an old soul. He was wise and cautions, yet willing to accept changes when they were presented to him and backed up with evidence.
With two new POV characters, one male and one female, I knew it was only a matter of pages before romance was introduced into the story. Unlike Winnie and Cathair, who already had feelings for each other before they've even met face to face, the romance between Arianne and Tearloch was more of a slow burn. I liked that. I liked the contrast between the two stories, proving there was no single mold for love and the author did a great job making both believable and convincing you to root for them even before the character themselves were aware of their feelings.
As the novella progressed, the story started to turn in a direction I wasn't anticipating. (Granted, I did not have too many theories formed by this point.) Not only did the turn change where I thought the story was going to go, but it introduced a whole new plotline I didn't even know I wanted. As our characters left the safety of their kingdoms, the world opened up, becoming much bigger than expected. Instead of feeling like a novella, I could have sworn I was reading a full-fledged novel based upon the presentation, characterization, and world building. This story broke the mold on novellas, proving that short stories can be just as well written and lovable as a 500 page book could be.
By time I reached the last page, I cannot begin to tell you where this series is going to go next. Tearloch knows where our baddie is located, but I don't think it will be that easy to get to him. There is sure to be some obstacles in the way, and maybe Liam will get a shot to have his voice heard –I really think I'd like that- but for once I don't know all the answers before to how the series will end. With several more stories planned, I am really looking forward to finding out.
I do not usually read a lot of faerie stories because I am so particular when it comes to the fae. But I really enjoy the world created in the Darkly Fae novellas. The characters are fun and fresh, the world dangerous and exciting, and the stories themselves are very well written. If you like faeries stories, or fantasy or paranormal ones, than give these guys a try.