There have been quite a few books that I've liked, or disliked, lately that haven't inspired me to write a lengthy review. But I wanted to say something about the books.
So here is the latest batch of mini reviews:
Taste of Darkness (Healer #3) by Maria V. Snyder - 3/5 stars
Boomerang (Boomerang #1) by Noelle August - 4/5 stars
---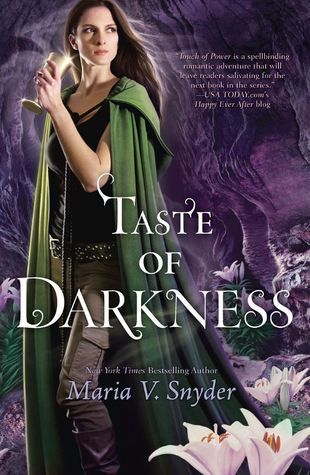 Title: Taste of Darkness (Healer #3)
Author: Maria V. Snyder
Release Date: December 31st, 2013
Genre: Fantasy - Magic
Age Group: YA
Source: Purchased
Rating: 3 stars
I loved
Poison Study
so much I had to get the rest of that series and the spin-off
Glass
series. So when the
Healer
series came out, there was no question on if I was going to read the books or not. Honestly, I cannot recall everything about the first two books. (I really need to stop waiting so long to read the later books in a series.) But I do remember enjoying them.
So I thought I would love this book. I didn't hate it, but I was disappointed with it. After the cliffhanger at the end of book two, I knew there was going to be some sort of drama/emotion at the beginning of this one. So I expected that. What I did not anticipate was the LONG stretch of repetitive forest wandering. We spent a lot of time doing what we have already done in the first two books: search for each other, search for lilies, get out played by the baddies, and lets not forget getting manipulated by Rhyne/Ryne/however you spell his name.
Once things started picking up *cough* last half of the book *cough* the story got better. But honestly, I have no idea how any of these characters outsmarted all billion baddies in this book. None of their plans were smart, and they were too busy doing stupid things or being all grumpy with each other to get much done. Speaking of baddies, who the hell was the Skeleton King guy? I do not remember him from either of the previous books. Was he ever there? Or was that just one through away comment I'd be expected to remember years later when I read book three?
I liked the monkeys in the previous books, but something about them in this one bothered me. It got annoying to hear monkey this and monkey that all the time, especially when it seemed like neither support Avry at all during this most of this book. And Flea was annoying with his rebellion/I hate you for making me this way attitude. Dude suck it up, YOU ARE ALIVE!
Like I said, I did like this book, but thankfully it is the last book in the series. I'm not sure I would have wanted to read anymore.
RELATED: Scent of Magic (Healer #2) | Shadow Study (Soulfinder #1)
---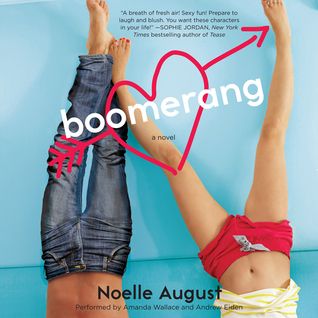 Title: Boomerang (Boomerang #1)
Author: Noelle August
Release Date: July 8th, 2014
Genre: Contemporary - Romance
Age Group: NA
Source: Gift from a friend
Rating: 4 Stars
Boomerang
was a super cute, humorous new adult story. I was expecting to like it, it came highly recommended. I loved it.
Mia and Ethan were such fun and real characters that it didn't take too long for me to love them and start rooting for their get together. Boomerang was an online dating company, so the two of them went through all kinds of dating hijinks on top of all the pressure of creating a booth for the convention that their possible job is riding on. What could have so easily turned stupid and cheesy, stayed fun and loveable throughout the whole novel.
The story flew by, and I loved hanging out not only with these two, but with the fun cast of secondary characters. I'm not sure how I feel about one aspect (but that is entirely my view on something) but I am really looking forward to getting a copy of book two so I can root for out next duo.