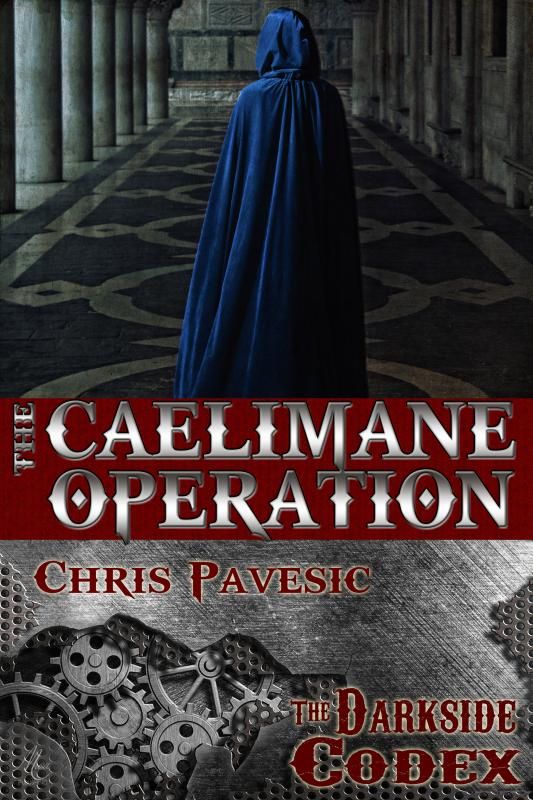 Title
: The Caelimane Operation
Author
: Chris Pavesic
Release Date
: January 16th, 2015
Genre
: Fantasy - Steampunk - Faeries
Age Group
: YA or older
Source
: Author
Rating
: 3 stars
"In Southwatch it's important to keep the faith.

When the Temples to the Goddess north of Southwatch are burned and followers of Dione are murdered, Hierocrat Catherine, a bard of the Caelimane Temple, sets out to find those responsible and to bring them to justice. With only the help of a traveling group of minstrels and a retired fae investigator, Catherine must solve the mystery before more people are killed, but will she succeed when she finds herself pitted against members of her own Temple, rogue members of the Seelie Court, and a seemingly unstoppable army of undead?"
*Author provided a copy for an honest review.*
I was contacted by the author, Chris Pavesic, about potentially reading and reviewing The Caelimane Operation. Goodreads billed it as fantasy with faeries and a steampunk flavor.
Fantasy. Faeries. Steampunk.
Naturally I said yes.
The Caelimane Operation was part of the Darkside Codex. Going in, I was not quite sure what exactly that meant. A quick trip to the Musa Publishing website told me that several authors wrote stories within what appeared to be the same world. But I wasn't sure. Was there a certain order to read the stories in? Would I be lost and miss references? And while I cannot comment about the last thing, I was pleased to discover that this story could and did stand on its own.
When the book started, you quickly got the feel of the book. It had an obvious fantasy element right of the bat, and yet, the introduction of mechanical horses and special rapier blades shifted the focus of the novel. The reader quickly discovered there was a lot more to this world waiting ahead. I liked how the steampunk elements were woven into the world and not just dumped in simply to claim that genre title like so many steampunk books I've seen. Those elements fit the rules of the world, and made logical sense considering the world and plot moving around them.
There were hints of possible romance throughout the story, but it wasn't the focus. And while I am curious, and would love to see how those threads resolve, I rather liked the fact that it wasn't a key element to the story. Our heroine had a dangerous, but important task ahead of her, and she didn't get boggled down by a romance that wouldn't have meshed well with the whole focus of survival and uncovering the hidden plot.
Speaking of Catherine, I liked her as a character. She reminded me of one of those silent types who leapt up and solved all the problems when the world went down the drain and they were needed. She was Hierocrat, a figure similar to a nun. She's made her vows the Caelimane Temple, in service to the Goddess Dione. But being a Bard, she was capable of fighting and adventuring. Catherine wasn't weak willed, and she wasn't going to take the safe route just because she was a girl. She had a job to do, and she was going to do it, which was admirable.
There was a lot to this world. I do not know if it was because it was part of a collection or not, but so much information was presented to us in the very beginning. I had to stop writing names down because I filled up my little box on my notepad. I didn't know what was important, and what was just a casual reference. The world quickly focused and we started making sense of our initial confusion, which was a testament to the author's talent, but my initial confusion stuck with me for a few chapters until that moment.
The book does not sum up all of the plot threads, there was still the hint of the faerie mystery to be uncovered, and I find myself wondering how this tied into the other stories of this world. Do they weave together like a tapestry? Will another author answer those questions? Or does Chris Pavesic plan on writing more from these characters? I really want to know more about Devyn and his past, and just how it connected to the plans of his brethren.
Words To Live By
"I'm always serious about what I do. Just not necessarily the way I do it." (Devyn 19%)
"To be tied to one place, not free to move, to explore, to see what lay over the next horizon, would be a horrible way to live." (Benedict 56%)
"People change. Pain and loss define us as much as happiness and love. And I feel very well defined at this stage of my life." (Devlyn 61%)
Overall
While I cannot comment about the other stories in this universe, the world presented to the reader in The Caelimane Operation, was fun, deadly, and mysterious. I really liked the division between the humans and their technology, and those with a connection to the earth, the faeries.