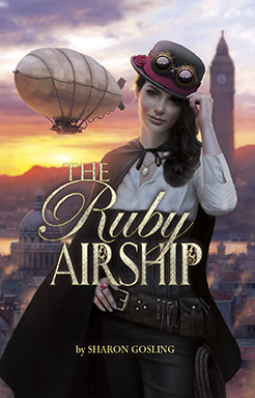 Title
: The Ruby Airship (The Diamond Thief #2)
Author
: Sharon Gosling
Release Date
: February 2nd, 2015
Genre
: Steampunk
Age Group
: YA
Source
: NetGalley
Rating
: 4 stars
Goodreads
"In this sequel to The Diamond Thief, trapeze-artist Rémy has left the circus and her life as a thief, but she doubts that detective Thaddeus Rec will ever truly trust her. Feeling torn between her new life and her old, Rémy decides to return to France and her old circus with Yannick, an old friend who unexpectedly appears.

Meanwhile, Thaddeus is sure that Yannick is up to no good. He's determined to find them and win Rémy back, even if he must risk a journey by airship to do so."
*Received a copy via NetGalley in exchange for an honest review.*
When I saw The Ruby Airship available for review on NetGalley, I jumped at the chance to read it. I love steampunk more than just about any other genre out there. (I know, most people who know me would have guessed paranormal or fantasy before picking steampunk. But they'd be wrong.) Sadly, I don't get to read the genre as often as I like because it is so hard to find well written books that are actually steampunk and not just one with a single random mention of a steam-engine-like creations.
So I had to read this book.
Only I goofed. I remembered seeing this book on another blogger's Waiting on Wednesday post, except their blurb never mentioned it being book two in a series. Since I already had an idea of what the book was about, I didn't think to reread NetGalley's blurb before I requested to book. I searched, but apparently book one was not available yet. Close to the release date, and yet so far away. A mistake I'll never make again.
I debated a bit on whether to read this one now, or wait to read it after getting a hold of book one. Waiting's overrated anyways.
For someone completely new to this world, it took me a few pages to get into the story. But only just a few. Once I knew who our three main characters -Thaddeus, Remy, and J- were and what their connection to each other was, things progressed quite quickly. The author does a nice job adding in important details from book one, yet she doesn't seem to give everything away. When I read The Diamond Thief, and I will as soon as it is out, I'll still be able to enjoy that book without feeling like it was ruined by me out of order reading.
I loved Thaddeus. Loved him. I wasn't too sure why he was a ranking cop at such a young age, but then again, it didn't seem like he was too sure himself. There is something missing in my knowledge base on that front, but it didn't hamper my enjoyment of the story any. Thaddeus was like a young Sherlock. He was smart and resourceful, even when you might think he wasn't paying attention, he was. But he was more than that, he was brave and loyal. I could easily see why Remy gave up her circus for a chance to pursue things with her policeman.
Remy was interesting. I've never really read a book with a circus performer as the main character before. So it was cool to see how her upbringing and skillset was used in her day to day life. When things got complicated, she was more than capable of extracting herself from the situation. I loved her faith in her friends, even if it was a bit blind at times. She is certainly an individual I wouldn't mind having as a friend myself. Her mysterious gem, and the surprise revelations about her past, only made me want to read the book quicker.
I feel like I know the least about J. Maybe he's supposed to be a mystery, or maybe I should know more about him if I read in the correct order, but either way, he kept me guessing. He's got this whole recluse tinker vibe going on, and I love it. He does his own thing, helps out when needed, and he's not afraid to tell the others when they're being idiotic. And the whole airship thing? That makes him officially my favorite character. (J! Fix me one too!)
Even though the overall story line is a continuation of The Diamond Thief, I was able to keep up. The pages blurred passed as our heroes got swept along on their respective adventures. I was very pleased to discover this was an actual steampunk novel. We had our typical London setting before the traveling, and we had a whole assortment of gadgets and contraptions that perfectly captured the spirit of steampunk.
I really loved how the circus elements and assorted characters were woven into the story line. It really felt like I'd stumbled upon some drama that led me to these characters. But at the same time, we got to keep the historical/steampunk vibe that was introduced on page one. Even though this series is advertised for 14 years old and up, it wasn't a book that only people in their mid-teens could enjoy. So don't let that hold you back from giving this series a try.
"This was how all friendships should be - easy and undemanding." (pg 42)
"It is late indeed, for who conducts nefarious deeds in daylight?" (Desai on pg 78)
"The things we don't know in this world are enough to fall in the spaces between the stars are they not?" (Old Woman on pg 225)