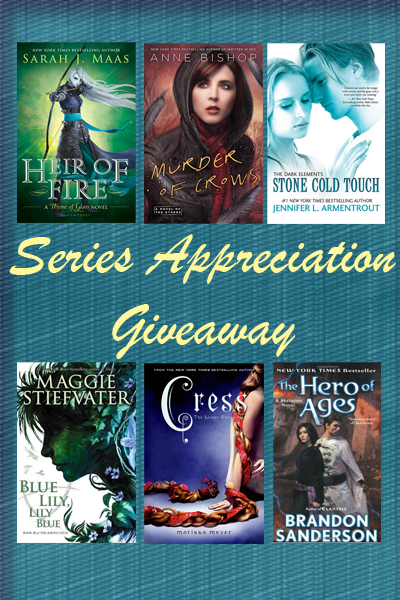 Guess what time it is?
Giveaway Time!
I am a big fan of series and it seems that most of the books I've read last year were part of one series or another. But I am still so far behind. This year I plan some major series catchup.
(1) Winners Gets to pick (1) ebook (from Amazon or Barnes and Noble) from the list below.
Books choices:
Throne of Glass by Sarah J. Maas
Crown of Midnight by Sarah J. Maas
Heir of Fire by Sarah J. Maas
Written in Red by Anne Bishop
Murder of Crows by Anne Bishop
Visions in Silver (preorder 3/3/15) by Anne Bishop
White Hot Kiss by Jennifer Lynn Armentrout
Stone Cold Touch by Jennifer Lynn Armentrout
Every Last Breath (out 7/28/15) by Jennifer Lynn Armentrout
The Raven Boys by Maggie Stiefvater
The Dream Thieves by Maggie Stiefvater
Blue Lily, Lily Blue by Maggie Stiefvater
Cinder by Marissa Meyer
Scarlet by Marissa Meyer
Cress by Marissa Meyer
Fairest by Marissa Meyer
The Final Empire by Brandon Sanderson
The Well of Ascension by Brandon Sanderson
The Hero of Ages by Brandon Sanderson
How to enter/rules:
Fill out the rafflecopter form below and best of luck to you.
No purchase necessary, void where prohibited. Must be at least 18 years old or have parent's permission to enter. Winner will be chosen at random, and be notified by email. Winner has 72 hours to respond confirming ebook selection, format (kindle/epub,) and which email they wish prize to be sent to or a new winner will be selected.
Rules are subject to update if necessary.