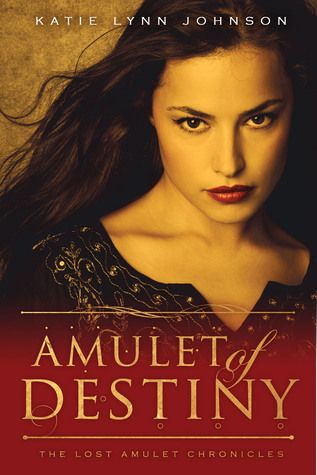 Title
: Amulet of Destiny (The Lost Amulet Chronicles #3)
Author
: Katie Lynn Johnson
Rating
: 3 Stars
Goodreads
"A WAR IS RAGING, and Alvair's tyrannical regime is more of a threat than ever. In an effort to gain the assistance of the powerful and elusive Council of the Triad, Alexa travels to the picturesque city of her troubled youth, Sierra Blanca. The fate of the free world is at stake, and her only hope is to find the most powerful Amulet in existence―the Amulet of Destiny―before her enemies do. The battle of the century is fast approaching, but before Alexa faces Dante she must reconcile with Caleb, as dark power consumes him and threatens to destroy their marriage.

In the epic final installment of The Lost Amulet Chronicles, Alexa is the last hope for a world consumed by greed. Accepting her destiny is difficult, and she alone can determine whether it is a blessing...or a curse."
(( THIS REVIEW REFERENCES EVENTS FROM BOOKS ONE/TWO, BUT ONLY VAGUELY. ))
*Received a copy for an honest review.*
RELATED: Amulet of Elusion (The Lost Amulet Chronicles #1) | Amulet of Power (The Lost Amulet Chronicles #2)
As an avid reader, I read a lot of books. But this year I am focusing on something new, and really it's about time: Finishing That Series. So when Katie Lynn Johnson announced that eARCs of book three, Amulet of Destiny, were available, I just had to get one.
Following the events of Amulet of Elusion and Amulet of Power, our heroes find themselves on the brink of war. The enemy is powerful, his following massive, and he will stop at nothing to get what he wants. So our heroes are off to meet the rebels.
Amulet of Destiny is darker than the other two books. We get to see more of that fantastical world, and politics seems to play an even greater role as Alexa and Caleb no longer find themselves in the "leader spot." Instead they join the resistance and put themselves under their banner. Not that this is a bad thing, because when shit happens, neither is afraid to step up and take charge.
Events occur during this book that make the story more real. A certain major spoiler from the end of book two has some nasty consequences in this book. And while I understood the logistics of it, it makes complete sense that her mind immediately focuses on the prior event and it fills her with dread. Something about the thing bothered me. I don't think it was the author's presentation of the revelation or anything that I find a fault with, but rather thoughts of the subject matter that get me.
And from there things only worsen for our heroes. They are taken on a complete emotional roller coaster during this last installment. We have laughs and kisses, and tears and heartache. This isn't one of those books where it's all rainbows and unicorns for all, but rather it's a book about right and wrong, and trials and sacrifice. Life and death.
Caleb, except for those few chapters I threatened to slap him if he didn't remove his head from his posterior, was still my favorite character of the bunch. He was strong and loyal. He loves his wife more than anything and, though he wants to shelter her from Dante and co, he understood and respected the fact that she was able to defend herself. And I really love that. Too often you see the hero refusing to allow the heroine to step up and shine on her own.
Alexa was Alexa. She's the it girl, the one Dante covets, and the one with a destiny. And yet, she is just a girl who wants to love and be loved. You can't help but feel for her in this book. She's got some relationship drama, a powerful stalker, and a world to save. No pressure. And yet, she is always willing to do what needs to be done to help her cause.
I do hate to say it, but this book was long. It was divided up into several parts based on the major plot arcs. There was an arc in the beginning/middle that I wasn't the greatest fan of. It was necessary for overall story progression, I just wish it was a little more trimmed up because I wanted more action. The last half of the book really picked up though, and the pages flew.
Words To Live By
"Adventure would wait for them, and when they were ready, they would seek it out."
Overall
If you are looking for a cute, lesson know indie novel to pass the time, then The Lost Amulet Chronicles may be the series for you. Through the three books I was entertained and intrigued.