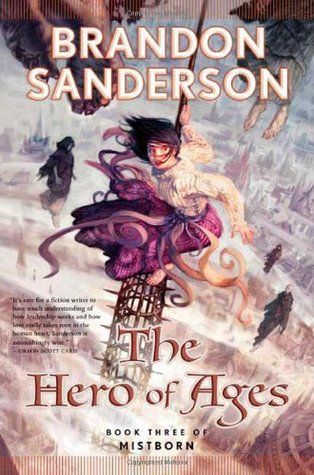 Title
: The Hero of Ages (Mistborn #3)
Author
: Brandon Sanderson
Release Date
: October 14th 2008
Genre
: Fantasy
Age Group
: YA or Older
Source
: Purchased
Rating
: 5 stars
Goodreads
"Tricked into releasing the evil spirit Ruin while attempting to close the Well of Ascension, new emperor Elend Venture and his wife, the assassin Vin, are now hard-pressed to save the world.This adventure brings the Mistborn epic fantasy trilogy to a dramatic and surprising climax as Sanderson's saga offers complex characters and a compelling plot, asking hard questions about loyalty, faith and responsibility."
This is going to be a hard book to review spoiler free, but I shall try. (So don't read the blurb if you don't want to risk spoilers.)
After the events of book two, The Well of Ascension, our heroes finally had a position of power. Only, it seemed that not everything was as they imagined it. The Hero of Ages takes everything I loved about the first two books (great characters, wonderful plot) and adds a little bit of seasoning until we are left with a book that I am really glad I had the chance to read it.
The Mistborn series proves what a master Brandon Sanderson is with the little things.
Details I overlooked in book one, played a huge roll in book three. Looking back I was able to piece things together, leaving me with a masterpiece that I wish I could read again and again for the first time.
There were things I wondered about, and a key plot point I debated over as I read. As things started to unfold, I couldn't read this book fast enough. This book may have been approximately 700 pages, but each page added something deeper to the story. There wasn't since chapter I was tempted to skim. We jumped right in to the middle of a battle and from there the action continued right up until the last page.
Over the three novels, the characters changed and grew, but at their core, they were the same great characters I feel in love with in book one.
Brandon Sanderson was a master at making you feel one way towards a character, and over the course of three novels, he presented you with little tidbits that forced you to reevaluate your previous opinions until you are left looking at characters that are neither good nor evil, but a mixture of the two.
Things happened in this book that left me crying.
But even though I shed a few tears, I really loved how things wrapped up. I know there are more books set after these three, but it's been a while since I've read a series that whose ending left me feeling satisfied and in the mood for a reread.
How much did I love this series you ask?
Well, I bought the ebooks, then upon finishing, I had to buy the pretty box set. These books will have a forever home on my shelves. If you have not had a chance to read this series yet, what are you waiting for?
"Faith means that it doesn't matter what happens. You can trust that somebody is watching. Trust that somebody will make it all right."
"There has to be a balance, Vin," Elend said. "Somehow, we'll find it. The balance between whom we wish to be and whom we need to be." He sighed. "But for now," he said, nodding to the side, "we simply have to be satisfied with who we are."