There have been quite a few books that I've liked, or disliked, lately that haven't inspired me to write a lengthy review. But I wanted to say something about the books.
So here is the latest batch of mini reviews:
*
Forgive My Fins (Fins #1)
by Tera Lynn Childs - 4/5 stars
*
Fins Are Forever (Fins #2)
by Tera Lynn Childs - 4/5 stars
*
Just For Fins (Fins #3)
by Tera Lynn Childs - 3/5 stars
---
RELATED: Eye Candy (City Chicks #1) | Straight Stalk (City Chicks #2) | Trying Texas (City Chicks #3) | When Magic Sleeps (Darkly Fae #1) | When Magic Dares (Darkly Fae #2) | Powerless (Powerless #1) | Relentless (Powerless #2) | Relentless Spotlight & Superhero Quiz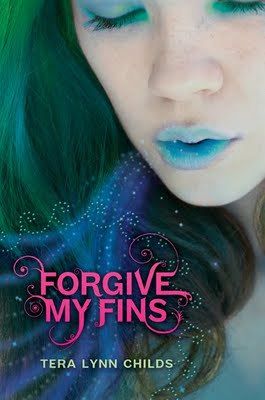 ★
★
★
★
I picked up Forgive My Fins because I'd read Tera Lynn Childs other series. Naturally, I just had to check this one out. Let me just start off saying, I am not a mermaid fan. Not even Disney's the Little Mermaid, could win me over as a child.
BUT
I did enjoy this book. It was cute in a sort of bubble gum pop sort of way. Not to say the book didn't have its "deep" moments, but it lacked a sort of seriousness or adultness that have dominated a lot of my current reads. And I think that's what I needed.
Forgive My Fins contains the same brand of humor I'd detected in Tera Lynn Childs' other works. Only this time, we got fishy puns. They were cheesy, but they kept me amused.
Lily was interesting, if a bit blind to the obvious. I never got Brody's appeal at all. From a mermaid's perspective, I guess I could understand how the seemingly nice, water loving guy could catch her eye. I really liked Quince though, even if he reminded me of little kids on the playground with the way he acted towards Lily.
I loved watching Lily and Quince interact. It made you wonder if your first impressions of someone were correct or not, and if they were, was possible to see someone differently once you knew them better. Just how much of her initial dislike of Quince was because of him, and how much was because he interfered with her plans?
"Some people find beauty in chaos."
---
★
★
★
★
Fins Are Forever was just as cute as Forgive My Fins. This time around, Lily has to keep her human hating cousin out of trouble. Except it seems Doe is determined to pester and fight her every step of the way.
I wasn't as big of fan of book two as I was of book one. If Lily wasn't as naïve as she was in book one, then maybe it would have been stronger. Quince was more, even Doe was more, but Lily was practically the same. She is supposed to be a princess. Sure, maybe she doesn't have all the answers her station might suggest, maybe she is just floating along like the rest of us -look at me I'm punny too- but she didn't grow as much as I wanted her to on some levels.
Don't get me wrong, I'm happy with her choice at the end. You could see how that Lily wasn't the same as the Lily at the end of Forgive Me Fins, but she was still a bit dense in certain areas. So, room for some improvement, maybe in book three?
I liked the plot of this novel. Watching her struggle with the reality of her pending birthday and the decision she made at the end of the last book, all while dealing with her irksome cousin kept me entertained. At the same time, the events of this book kind of respected that decision and her growing relationship with Quince. I was kind of afraid that Fins Are Forever might somehow cheapen it or toss snarky comments to make you want to hate the two of them together.
"Love doesn't care about prejudices."
---
Just For Fins picked up where book two ended. We have a whole ocean of trouble to shift through, and just the princess for the job.
I knew going into this series, that with the exception a novella, this was the end of the series. (Or at least the end of what is out and has been announced, anyways.) So I had certain expectations.
The plot was interesting. It had the right amount of tension and character growth that made the story fun. Book three had the same cute, fluffy humor that was spread throughout the first two. I liked watching her step up and take charge of a project that is important to her and her people.
But for the "end" of a series, it was anticlimactic. It was like BANG, solve all the problems, and get the couple page spoilerish wrap-up. Maybe it was me, maybe it was the book, but if felt like something was missing. Like the ending was just too convenient. (And that had little to do with the story's climax, and more to do with the series ending.)
Don't get me wrong, I didn't hate it or anything. It just wasn't quite what I was expecting, and not as good as the previous two.