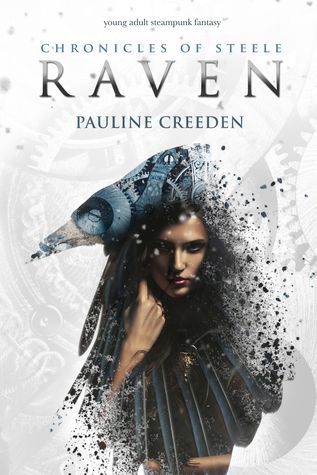 Title
: Raven (Chronicles of Steele #1)
Author
: Pauline Creeden
Release Date
: October 17th, 2014
Genre
: Steampunk
Age Group
: YA
Source
: NetGalley
Rating
: 4 Stars
Goodreads
"This is the complete Steampunk Fantasy novel - all four parts of the serial in one volume! Also includes bonus features not found in the episodes ~

Human life has value.
The poor living in the gutter are as valuable as the rich living in a manor.
The scoundrel is no less valuable than the saint.
Because of this, every life a reaper takes must be redeemed.


Raven has lived by this first tenet since she was trained by her father to become a reaper. But since his death, she's been spending years redeeming the lives she's taken. By her count, she's even and it's time for that life to end. If she settles down and becomes a wife, she might just feel human again. But on the way to the life she thinks she wants, the baron of New Haven asks her to complete a task which she cannot ignore… Just when Raven decides to give up on her life as an assassin, she's pulled right back in."
*Received a copy via netgalley for an honest review.*
When I first saw Chronicles of Steele: Raven available for request on Netgalley I don't think I made it past the word 'steampunk' before I started bouncing like a little girl on Christmas morning. I love the steampunk genre, if its done well that is and so often it is poorly handled.
Enter Raven, a Reaper who simply wants the find balance between her killings and those she needed to save so she could quit and marry the love of her life. But when a carriage careened out of control, her instincts took over and she rushed to the rescue. From there her plans took an unexpected turn, and the story exploded.
Most of the steampunk books I've read had some sort of paranormal aspect to them, so I wasn't too surprised when witches were tossed into the mix. But something about the world felt different from the others. Sure their were nobles and peasants, mechanical horses and alchemists, but we were not in England. Even though we were told the names of places, it took a few chapters for that to really settle in. As the story continued, I was tugged into a world that was both steampunk AND fantasy. The combination was captivating and spurred me to read faster.
Raven was an interesting character. There was no question she could take care of herself, we saw evidence of her skills very early on. -Can I have her bow and speed please?- But her strength wasn't just physical, she was capable, and more than willing to take charge of her life. She was smart and resourceful, you couldn't help but to admire her. At the same time, she had this air of naivety about her. She may be capable of interacting with others, but living a life on the run allowed only a couple people in her life to see the girl underneath all the black clothes and assortment of weapons.
I liked the way the romance in this story played out. They were aware of the other from the start but it wasn't like a instalove attraction-til-death-do-us-part sort of thing. It fit within the structure of the story. You knew it was happening and you saw the characters change as the story progressed, but this was not one of those romances where the mushy bits came first and the plot second. Our heroes focused on what they needed to be focused on.
Words To Live By
"Defeat is a state of mind. The loser is not a person who fails, but one who gives up. If one never gives up, lost ground can be easily recovered when the opportunity presents itself. But if one's head hangs in shame, only the person's feet can be seen."
"Know in whom one can trust, and in whom one cannot. Expose wounds to one for healing; hide them from the other or die."
"There are times when no matter how hard you want to redeem yourself for your wrongs, you just can't do enough. You can't pay enough."
Overall
If you like steampunk, or even fantasy novels with a bit of a twist, then you may enjoy this one. The characters were interesting, and the world was fascinating. At the end of the book, there was a bit about the next book in the series coming out, so that's something I am going to keep my eye on.