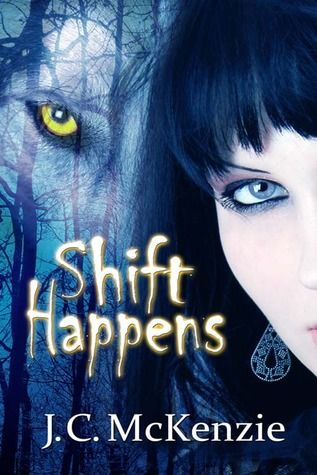 Title
: Shift Happens (Carus Series #1)
Author
: J.C. McKenzie
Release Date
: March 27th, 2014
Genre
: Romance - Paranormal - Shifters - Vampires
Age
Group
: NA or Older
Source
: Goodreads First Reads
Rating
: 4 stars
Goodreads
"Andrea McNelly's job as a government agent is not asking questions, but then a routine assignment turns into a botched assassination of a Master Vampire's human servant. Answers become a priority. Her search to discover the truth is riddled with obstacles, the largest being an oversized Werewolf who resembles a Norse god. Andy can't afford the distraction he offers, because if she fails, she faces eternal enslavement.

Wick's job is to monitor Andy, but he prefers more intimate activities, none of them G-Rated. His choices, however, are often not his own. His ability to help Andy is limited by his bond to the Master Vampire.

Facing many trials and challenges along her path to redemption, Andy learns the value of her freedom might be set too high."
*Won via Goodreads First Reads for an honest review.*
What I liked about it:
* Andy - She was this fun, passionate lead. She was not afraid to get her hands dirty - hey she was an assassin afterall. But at the same time she was vulnerable because of her past. I liked how the two sides of her character came together, it made her more real.
* Bird/Cat/Wolf - Andy has three forms she could shift into, whereas most shifters only have one. What could easily have been written just to make her special, was not. The more we learn about her, mainly though hints and teases, the more I began to see that there was a more valid reason for her oddity lurking in the future.
* A certain individual of the feline variety that makes an appearance late in the game. And that's all I am going to say to that one.
What was eh:
* Wick - Maybe it was because of his were mate bond with Andy, but I would have liked to them have more of a connection before certain things happened. I loved that he was willing to take their relationship slowly because of her past, but at the same time, it felt a little insta. I get that she was his mate, but if you are contemplating going up against your master for "the one" I'd like to see more of a relationship there...especially since his actions would reflect against his pack.
To sum it up:
Shift Happens was a cute, fun romance novel. I loved the paranormal elements, the shifters and weres, even the vampires. This book had my brand of humor throughout it's pages. With the way things wrapped up, I am very curious about what the author has planned next.