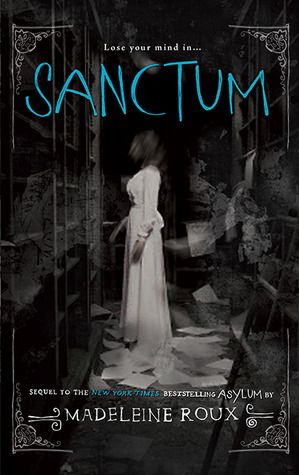 Title
: Sanctum (Asylum #2)
Author
: Madeleine Roux
Release Date
: August 26th, 2014
Genre
: Contemporary - Thriller
Age Group
: YA
Source
: Goodreads
Rating
: 3 Stars
Goodreads
"In this haunting, fast-paced sequel to the New York Times bestselling photo-illustrated novel Asylum, three teens must unlock some long-buried secrets from the past before the past comes back to get them first. Featuring found photographs, many from real vintage carnivals, Sanctum is a mind-bending reading experience that blurs the lines between past and present, genius and insanity, perfect for fans of the smash hit Miss Peregrine's Home for Peculiar Children.

Dan, Abby, and Jordan remain traumatized by the summer they shared in the Brookline asylum. Much as they'd love to move on, someone is determined to keep the terror alive, sending the teens photos of an old-timey carnival, with no note and no name. Forsaking their plan never to go back, the teens return to New Hampshire College under the guise of a weekend for prospective students, and there they realize that the carnival from the photos is not only real, it's here on campus, apparently for the first time in many years.

Sneaking away from sample classes and college parties, Dan and his friends lead a tour of their own—one through the abandoned houses and hidden places of the surrounding town. Camford is hiding a terrible past, and the influence of the asylum runs deeper than Dan ever imagined."
RELATED: Asylum (Asylum #1)
*Won through Goodreads First Reads*
Sanctum picked up a little after Asylum sent our heroes back into the realm of safety. Or at least, that's what they wanted to believe. As his visions of the warden continued to plague him, Dan knew he had to do something to stop it. He couldn't just let the events in the asylum go. As if that wasn't enough, it seemed that someone or something would not let them leave the ordeal behind them.
If you've read my review of
Asylum
, then you would know that when I entered to win
Sanctum
, I did not realized it was book two in a series. Call me blond. I felt responsible for my error -and very lucky to have won a book- so I picked up
Asylum
from the library.
But, honestly, I'm not sure I would have continued if I didn't already have book two in my possession.
Sanctum
started off a bit slow. (I think the 'slower for a long while' pacing of the first book was the main reason for my overall mediocre enjoyment of it.) Things happened in
Sanctum
: a visit to an old buddy with questionable sanity, some freaky visions while awake, a scary as all get out picture of a mask design to scare unsuspecting readers when they turned the page. Yet, it just didn't FEEL like enough for me. Which I fully admit, might just be me being me.
I still do not know these characters.
Sure, I know Dan is somehow connected to the Asylum, his two best friends are his two best friends, and Abby is his sort of girlfriend. But two books later, I still feel like they just walked into the room, and we are meeting for the first time. I know more about the Warden than I do about the three of them...COMBINED.
There were a few times that you could have switched Abby and Jordan's names around, and you would have had the same character. And Dan's only real differences from them were his visions and the fact he wanted to press onwards while the duo begged to let it drop and go home.
And what was with Dan and Abby's relationship? We started off in questionable long distance status, had a few rocky moments/arguments, then nothing. It was just dropped. Was this a plot error or did our characters just separate? I do not like not knowing.
But, like a diligent reader, I pressed onwards.
It had to get better right?
The plot wasn't bad. It had elements of questionable paranormal entities, mixed up with an in your face, psychological thriller. Why was he having these vivid visions? They felt like real memories, but how was he living them? How was the warden tied into current events? Who was tormenting him and his friends? What about the creepy masked people? The haunted houses?
For a trio with no one to trust but themselves, who witnessed some creepy and crazy things already, they were not scared enough. Sure they talked about being scared, and that maybe doing this was not such a good idea. But if I witnessed a certain diabolical thing that happened to a certain character, I would have flipped out. Panic attacks, chaos, I'D HAVE BEEN GONE! (Of course, I never would have returned, but that's besides the point.) They were a bit apathetic to their situation at times. Like the stakes weren't high enough, or they couldn't tell how high the stakes truly were.
I may not have cared about our heroes, but I NEEDED them to uncover the truth.
The second half of the book topped the first half.
And, in it's own way, things did pick up. I really liked learning more about the asylum and the people haunting Dan. Things would happen to our characters, and I could look back at
Asylum
and connect the pieces. I love looking back on books and being able to see how interconnected they are. Though I knew who the main baddie would ultimately be very early on during book one, there were a few surprising twists during
Sanctum
.
After a certain incident involving a certain group of people, I WANTED to keep reading. We picked up the pace, and our characters were actually doing interesting things. I would have loved to explore the haunted houses more or have more to do with the masked group, because the second half of the book felt very different from the first half.
And that right there is what saved this book in my eyes.
Would I read more in this series? No, but I might read another book by this author if it sounded like something I'd enjoy.