"Everything has to come to an end sometime." – L. Frank Baun
If I had to pick one word to describe series endings, I'd have to choose: "Bittersweet."
It is overused, but there is no other word I can think of that pulls in the heartache and mixes it with the taste of accomplishment as well. The end of a book, is at its core, a goodbye.
That portion of our journey is over, and we are leaving the characters behind, or perhaps, they are leaving us behind.
Maybe it really is only a "until later" parting, because you plan to reread, but a part of your soul knows that even should you meet again, you won't feel quite the same way.
Because you are no longer the same person you were in the beginning,
you've changed right along with the characters
. I work in a really stressful retail environment. Really stressful, like trapped in a box being yelled at all day long kind of stressful. You could say I have thick skin; I don't let their highs and lows affect me too much. One might say I'm emotionally balanced.
Yet if I were to pick up a 'last' book, I'd end up an emotional wreck by the last page.
Because in the span of those precious pages, I'm living these characters' lives. I'm one of those people who can read a book and see the whole world as if I was watching a movie unfold. (That's the chief reason why I cannot be held responsible for any conversations that take place while I'm reading, I will not remember them.)
And endings?
God
I HATE them
. Whether it is a book or a movie –let's not get me started on real life partings- I've always struggled to get through them. I don't want to say goodbye to these characters I've come to love. I don't want to watch them die or lose the one thing they truly want. Even if they were to win, and unicorns and rainbows magically gave them everything they could ever want for the rest of eternity, this is still goodbye for us.
If I wasn't a curious person, I'd probably never read the last book of any series.
Ever.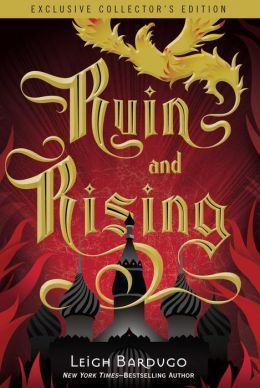 Case in point,
Ruin and Rising
by Leigh Bardugo. I preordered the shiny, gold Darkling novella edition the second I heard about it. (Darkling <3 ) That was, what, several months before the release date? When it arrived, I squealed, then promptly buried it on my shelves because the thought of reading it depressed me.
I'm dying to know what happens, what choices she makes, who she ends up with, who lives and who dies…all of it. I've avoided any reviews beyond the occasional star ratings, and have successfully kept myself spoiler free for this long.
(
RELATED : Shadow and Bone // Ruin and Rising // Six of Crows )
So what's my problem?
I'm not ready.
Because once I start the book, I'll finish it within a short amount of time, and then I'll have to say goodbye. Sure I can always reread the book, but I'll never be able to read it again for the first time. I'll always remember how I felt at the last word, and those emotions will cloud over the whole book. I think that's why it's rare for me to reread any book.
When I've lived with these characters for 1 to 6, or more, books, these characters have changed my life. Series endings are like high school graduations. You've survived all of the trials and social minefields, and made it to the finish line. It's over, you're free. You're excited and happy to go off on your own, yet a part of you will always look back and long for the good old days.
"The end is never as satisfying as the journey." – Unknown.
I lose a part of my heart to every good series I read.
As much as I dislike the conflicting emotions, I long for them because a good series will always make me feel that way. A good series will be true to life. There will be some heartache, because with pain, you really cannot judge the good for what it is. There might be death, because you cannot fight a war or face monsters without risking something. But there will be joy too. Little moments that make you realize that everything you have gone through, everything you have suffered was worth it in the end.
How do you feel about series endings?