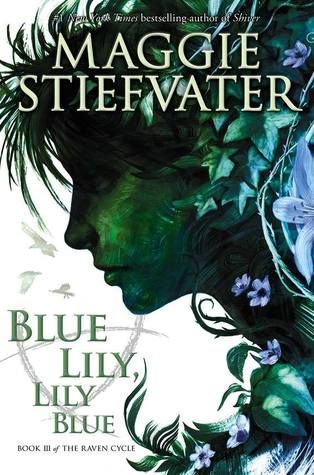 Title
: Blue Lily, Lily Blue (The Raven Cycle #3)
Author
: Maggie Stiefvater
Release Date
: October 21st, 2014
Genre
: Paranormal
Age Group
: YA
Source
: NetGalley
Rating
: 4.5 stars
"There is danger in dreaming. But there is even more danger in waking up.

Blue Sargent has found things. For the first time in her life, she has friends she can trust, a group to which she can belong. The Raven Boys have taken her in as one of their own. Their problems have become hers, and her problems have become theirs.

The trick with found things though, is how easily they can be lost.

Friends can betray.
Mothers can disappear.
Visions can mislead."
*Obtained a copy via NetGalley in exchange for an honest review.*
RELATED: The Raven Boys (The Raven Cycle #1) | The Raven Boys (The Raven Cycle #1) (Book Club Review) | The Dream Thieves (The Raven Cycle #2) | The Raven King (The Raven Cycle #4) | Pip Bartlett's Guide To Magical Creatures (Pip Bartlett #1) | The Raven King Tour Event Recap
Blue Lily, Lily Blue
takes place about a month after the end of
The Dream Thieves
. Our heroes are still searching for the elusive Glendower. Only this time, he's not the only one they are hoping to find. It's so hard to talk about this book and keep things spoiler free, but I'll manage it somehow.
First off, if you haven't read any of the
Raven Cycle
yet, run to the nearest library or bookstore and pick up
The Raven Boys
and
The Dream Thieves
now.
I'll wait.
Caught up yet?
Good.
"But what she didn't realize about Blue and her boys was that they were all in love with one another. She was no less obsessed with them than they were with her, or one another, analyzing every conversation and gesture, drawing out every joke into a longer and longer running gag, spending each moment either with one another or thinking about when next they would be with one another. Blue was perfectly aware that it was possible to have a friendship that wasn't all-encompassing, that wasn't blinding, deafening, maddening, quickening. It was just that now that she'd had this kind, she didn't want the other."
Now, if you're like me, you'll love the boys. Gansey, Ronan, Adam and Noah are so different from each other but they fit together in such a way that it becomes hard to imagine one without the others. Even once Blue has been absorbed into the fold, their connections to each other run deeper than just basic friendship. And that's before we get to the paranormal connections.
Gansey is my boy. There is just something about him that I loved from the moment we met him. Because of her curse and his ghostly appearance on the corpse's road, you knew the romance between them was coming from the start. And, oh my how the feels are horrific in this book! Maggie Stiefvater is trying to kill us by manipulating our emotions to the extreme.
While we aren't taken to such a heart wrenching place as THE KISS that occurs in book two, we come pretty close to it with their secret, conversations in this one. They know every single reason why their connection can only end poorly for them, but they can't help themselves. What could quickly turn into a YA trope (hero/heroine unable to be together due to outside reasons) is written in such a way that you find yourself praying to the literary gods there is some way these two can be happy together.
""I'm glad you misdialed."
"Well. Easy mistake to make," she said. Might do it again." A very, very long pause. She opened her mouth to fill it, then changed her mind and didn't. She was shivering again, even though she wasn't cold with the pillow on her legs.
"Shouldn't," Gansey said finally. "But I hope you do.""
Ronan is my bad boy. I want nothing more than to hug him and never let go. The book bad boy lover in me adores his snarky, screw the world attitude. But the me that cannot help but emphasize with the characters prefers the glimpses of the loyal, strong boy underneath. Even with every single secret we pry from him, I feel as though we may never get the full picture because that's just the way he is.
Adam is still my least favorite off all the main characters. But I think that is because of certain attitudes and stubborn beliefs he carries around with him. As the story progresses, and he grows up some, I think he may be closer to winning me over.
No one in this series has tugged at my heart more than Noah. And this book is no exception to that. There are so many things I want to say about this book and him but I cannot. But by the end, if you do not feel for this boy, you have a heart of frozen metal.
"It was just that spending time with Gansey and the others had made her think that the impossible might be more possible than she'd thought before."
So much happens in this book. We have to deal with consequences of previous actions, the addition of new characters, and decide just what the deal is with all this talk of threes. From the first page, you are roped into the story and the pull doesn't fade, even once the last page is reached. The more you learn about the deeper connections between these characters and the mystery of Glendower, the more you need to uncover. Each new fact flirts and teases, until you find yourself with more theories than you know what to do with.
If you haven't already read the series, I highly recommend it. I only picked up book one a few months ago, but I still find myself wishing I would have read it sooner.
(( And, as for the other potential romance the web is already starting to talk about? I ship them. <3 ))