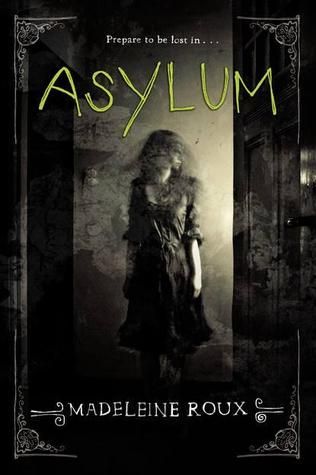 Title
: Asylum (Asylum #1)
Author
: Madeleine Roux
Release Date
: August 20th, 2013
Genre
: Mystery - Paranormal
Age Group
: YA
Source
: Library
Rating
: 3 Stars
"For sixteen-year-old Dan Crawford, New Hampshire College Prep is more than a summer program—it's a lifeline. An outcast at his high school, Dan is excited to finally make some friends in his last summer before college. But when he arrives at the program, Dan learns that his dorm for the summer used to be a sanatorium, more commonly known as an asylum. And not just any asylum—a last resort for the criminally insane.

As Dan and his new friends, Abby and Jordan, explore the hidden recesses of their creepy summer home, they soon discover it's no coincidence that the three of them ended up here. Because the asylum holds the key to a terrifying past. And there are some secrets that refuse to stay buried."
RELATED: Sanctum (Asylum #2)
Asylum
is a type of book I do not normally read, even though it's paranormal. I do agree with the comparison to
Miss Peregrine's Home For Peculiar Children
, and not just because they both have creepy pictures.
Asylum
has that same vibe, I got the same feeling while reading this book that I got when I read
Miss Peregrine's:
sort of a contemporary, on the verge of a ghost tale, paranormal twist.
This is supposed to be a YA book, our hero is sixteen. He's attending a summer program away from home at a college campus. He kept talking about grown up things. But the book doesn't FEEL like a YA novel. It's hard to really pinpoint why. Maybe it's because I couldn't really get into his head, so I focused more on the surface details while I read this book. Maybe it's because of the writing itself. Maybe it's because he pined over the girl like a adolescent first crush. Either way, this should really be called a middle grade book.
Asylum is another case of instalove. I wouldn't say I hate instalove, though I'm not a fan I can usually ignore it, but I really cannot stand it when it makes little sense. Maybe for a half a second I could see him falling for her, but then the girl had more mood swings than the PMSing female stereotype. After that, I lost interest in their relationship. Which seemed to be the focus in a book where it really wasn't needed.
Despite the flaws, I didn't hate this book. It was entertaining enough that I kept on reading. If you keep in mind that the book isn't as scary or creepy as the blurb makes it seem, the book isn't too bad. I'm not a horror kind of girl, but I would have preferred a bit more creep honestly. Or at least for the characters to be a bit more fleshed out.
I won book two through Goodread's First Reads -before I read book one, because I didn't realize it was a sequel- so I will be reading it sometime in the near future. But I have so many books on my TBR, if I didn't already own the book, I probably wouldn't be up for reading book two.
"No great mind has ever existed without a touch of madness."