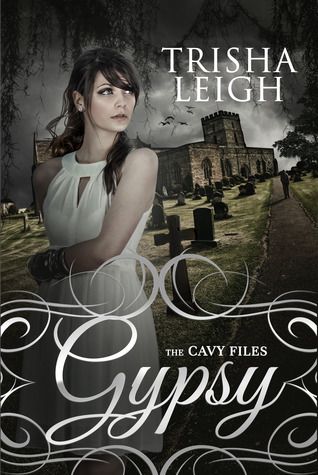 Title
: Gypsy (The Cavy Files #1)
Author
: Trisha Leigh
Release
Date: May 13th, 2014
Genre
: Paranormal
Age Group
: YA
Source
: Blog Tour
Stars
: 4
"Inconsequential: not important or significant.
Synonyms: insignificant, unimportant, nonessential, irrelevant

In the world of genetic mutation, Gypsy's talent of knowing a person's age of death is considered a failure. Her peers, the other Cavies, have powers that range from curdling a blood still in the vein to being able to overhear a conversation taking place three miles away, but when they're taken from the sanctuary where they grew up and forced into the real world, Gypsy, with her all-but-invisible gift, is the one with the advantage.

The only one who's safe, if the world finds out what they can do.

When the Cavies are attacked and inoculated with an unidentified virus, that illusion is shattered. Whatever was attached to the virus causes their abilities to change. Grow. In some cases, to escape their control.

Gypsy dreamed of normal high school, normal friends, a normal life, for years. Instead, the Cavies are sucked under a sea of government intrigue, weaponized genetic mutation, and crushing secrets that will reframe everything they've ever been told about how their "talents" came to be in the first place.

When they find out one of their own has been appropriated by the government, mistreated and forced to run dangerous missions, their desire for information becomes a pressing need. With only a series of guesses about their origins, the path to the truth becomes quickly littered with friends, enemies, and in the end, the Cavies ability to trust anyone at all."
Gypsy is the story of ten young adults with unique abilities&, who live in an old plantation home under the care of several individuals who monitor and care for them. When their world is turned upside down and they are forced into the normal world, they must uncover the truth behind their old home. But that's only just the beginning.
When I first saw this I book I added it to my to be read list right away. Then I saw the notice of the blog tour, and I knew right away that I had to read this book. And I wasn't disappointed.
"Dear Mr. Producer, I've been kept away from normal society my entire life, with nothing to show me how it really is except your movies. Now I'm outside and I am a little lost sheep. PS: You failed."
From the first page I was drawn into this story. A group of kids with code names being obviously experimented on -to my reader eyes- but to them it's just another day. How could the fact they've been brainwashed not make the story more interesting? I really liked how they had some modern knowledge. It gave them a certain element that helped their transmission, and made them slightly more adorable for not understanding all cultural references.
Gypsy wasn't who I thought she was going be. It's not a bad thing or anything, I just had ideas in my head from reading the blurb. But, that's ok, I ended up liking her character. It was entertaining being in her head between her desire to be normal -or at least what Hollywood portrays as normal- and her loved and devotion to her Cavy family. And yet, her actions towards her non-gifted acquaintances shows how her compassion extends to more than just those bound by shared history.
As far as the rest of the ragtag bunch, I liked getting to know them. It took me a few chapters to sort everyone and their powers together, but once we started getting to know everyone, they became like my family. I loved the clubhouse. I wish I had a place like that where I could mentally retreat and communicate with my friends/family.
"Change is never simple, Norah, no matter where you came from. But every place is just a place. They're not all that different."
The only thing I wasn't really expecting is the love interests all around. There were three guys that at one point in time during the book had moments or hints of a possible relationship. I wasn't really sure what to think of where things were going for a while there. But then she said something, something that made sense about where the boys stood and where she stood in their relationships. I won't say anything more detailed to avoid spoilers, but I had a moment where I just sat there and understood. It made a lot of sense, and I could easily forget my initial misgivings.
If you are looking for a good book with a paranormal twist, I highly recommend this one. I personally cannot wait until the next book comes out.