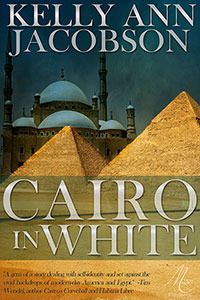 Title
: Cairo in White
Author
: Kelly Ann Jacobson
Release Date
: February 14, 2014
Stars
: 3.5
Author's Website
"As Cairo sweltered in the summer of 1986, eighteen-year-old Zahra faced the heat for a rendezvous with her secret lover.

But after climbing the Ahmeds' wall and darting through an open door, Zahra came face-to-dace with the last people she expected to see: her parents, who were taking tea and arranging her marriage. But not to Jamila; love between two girls in Egypt was forbidden. Instead, Zahra would marry Jamila's brother.

Twenty years later, Zahra's American daughter, Aisha, steps off a plane at Cairo International Airport. Aisha is as headstrong as her mother, and she is determined to find a life in Egypt. Will Aisha find acceptance, even a home, in a culture that once rejected Zahra?

Cairo in White is a story of love, loss, and acceptance in the styles of Khaled Hosseini and Michael Ondaatje."
*Received a copy in exchange for an honest review.*

Cairo in White, is a fairly short novel, but it's pages are full. Told in alternating chapters, Cairo is the story of two young women trying to find themselves and follow their hearts. In the past, Zahra is forced into a marriage she wants nothing to do with. But that is only the beginning of her story, because in the present, we have her daughter, Aisha, who travels back to the land and the family her mother left behind.

At first glance, Zahra seemed to be a bit of an idealist, living in her own world. She is in love with someone forbidden to her, and while she knows her parents will not approve, she has this hope that maybe things will be ok. Until things are not, from there it only gets worse. And yet, despite it all, she has this inner strength that keeps her going. And you really have to admire her for that.

I wasn't sure what to think of Aisha at first. She sets off on this adventure to Cairo to visit the family she's never met before. But it is more than a simple meet the relatives visit for her. This is a different world than the one she left behind in America. Its more than just culture shock, is a whole new way of life.

I think the author did a wonderful job highlighting the differences without making one viewpoint be correct while the other is wrong. Instead this book was more about following your heart and taking the path it leads you down rather than simply allowing things to happen to you. Because if you're truly happy, then what does it matter where you are or who your with.

If you are looking for a cute, quick story that will make you think, then try this one.